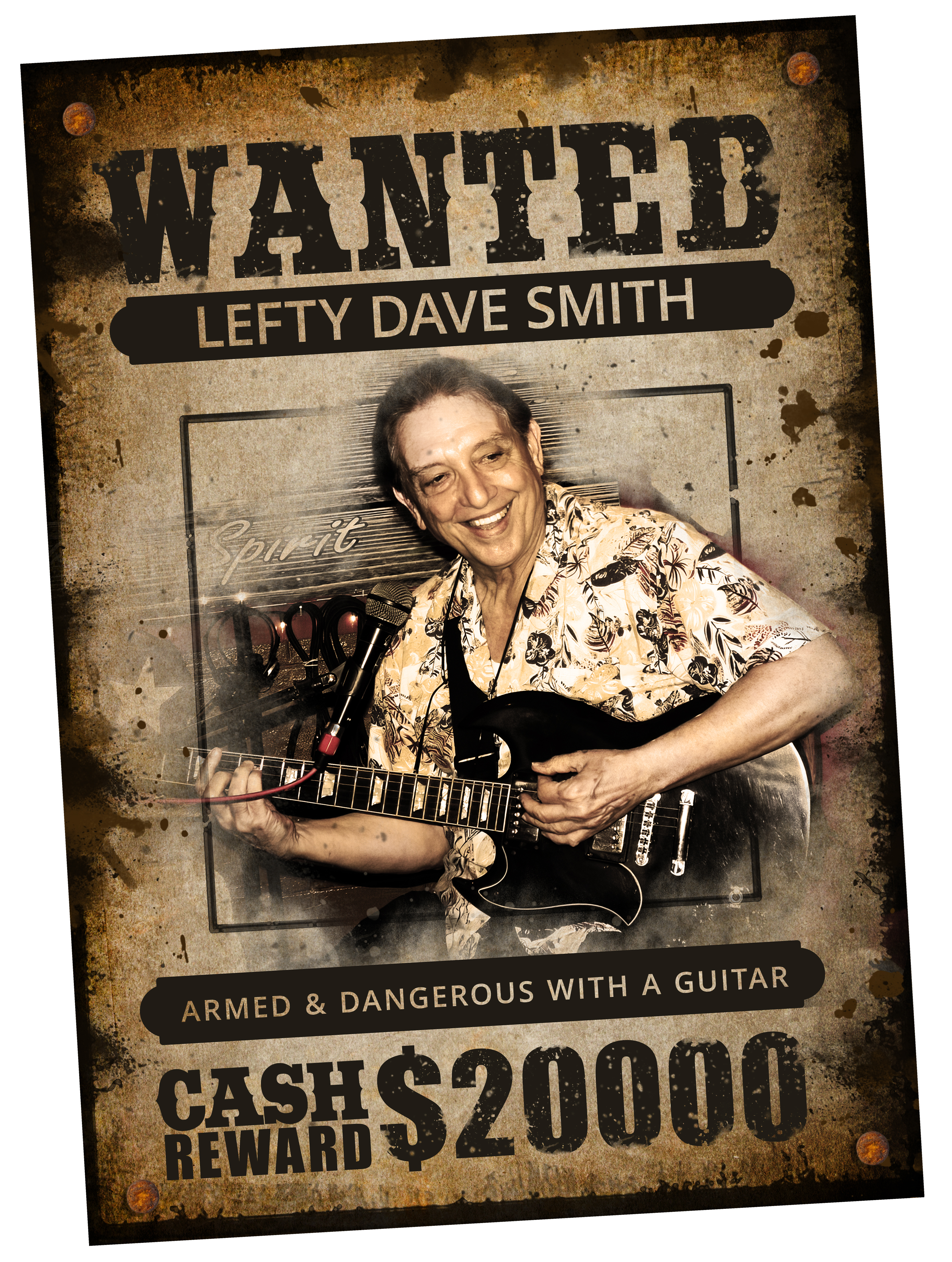 Lefty Dave Smith
One Man Dance Band, Single Act with Big Band Sound, Classic Oldies in Country/Rock.
Singer, Guitarist, Songwriter for MOCCASIN SLOUGH.
For Bookings Call 352.637.1257
The Life, The Legend
of Lefty Dave
As young man in 1958, I had the privilege of singing in the choir at the Ohio Military Institute. This experience laid the foundation for my passion for music. From 1959 to 1961, I continued my musical journey at Castle Heights Military Academy in Lebanon, Tennessee where I sang in the choir alongside the talented Allman Brothers. I had the opportunity to expand my musical skills further when I moved to Indiana where I sang in the choir and glee club at Howe Military School and also took piano and organ lessons. It was during this time that I also learned the basics of playing the guitar. And in late 1964, I embarked on my first band venture, the Candyman Band, based in Clearwater and Largo. The following years, from 1965 to 1967, saw the formation of The Lonely Souls, a band I co-founded in Clearwater and Tarpon Springs.
In 1967, I moved to Detroit and became a part of the GE Blues Band. This period allowed me to further refine my musical skills and explore new avenues of expression. However, my journey took a different turn in 1968 when I joined the US Army. I served as a Sargent E5 and Commo Chief in the USARPAC from 1968 to 1971. After completing my military service, I returned to Clearwater from 1971 to 1973. During this time, I played in various bands as a front man, assuming the roles of lead singer, rhythm guitarist, and keyboardist. It was during this period that I also established Message Music, a demo recording studio and publishing company that has continued to thrive till this day.
As my career expanded in 1973 to 1981, I performing as a solo act at various resorts along the beautiful Gulf Coast. These included esteemed locations such as the Don Cesar, Breckenridge, Hilton, and many others. It was a time filled with memorable performances and the opportunity to entertain guests in these exceptional coastal destinations.
At the height of my career, I hit the stage with Bertie Higgins and Paradice playing bass, for about a month, hated the road! Then from 1985 to 1987, I ventured into a new business venture and purchased two Bail bond agencies. Together with my wife Marti, we established MARTI BAIL BONDS. During the evenings, I performed as a solo act at various bars and clubs. During this time, I also had the privilege of creating a MINI album, which was produced by Sonny Limbo and published by Lowery Music Group. The recording took place at the renowned Muscle Shoals Sound studio, where the talented Swampers lent their expertise. Additionally, I recorded background vocals at the Nashville Now Studios, with the incredible Nashville Now singers, thanks to the late Ralph Emory's support. For the final mix and mastering, I returned to Atlanta and worked with Southern Tracks. Our efforts garnered some airplay along the Gulf Coast for the song "Narrow River," featuring the brilliant acoustic lead by Mac McAnally.
During the period of 1987 to 1994, I led a diverse musical career and worked as a skip tracer while also performing as a solo act at various bars, clubs, and hotels and producing the album "Covert Action" at Dave Hicks' renowned recording studio in New Port Richey. The studio boasted exceptional musicians, and I was fortunate to have the talents of Dave Muse from Firefall/Marshall Tucker on saxophone. Additionally, Sister Pearl Livingston, the sister of Bob Marley, co-wrote and lent her vocals to the album, while Stephanie Fisher showcased her remarkable skills on violin and vocals. Collaborating with the best studio musicians in Central Florida made this album a truly remarkable project.
From 1994 to 1999, I continued performing at various bars and clubs, while also engaging in day trading of small-cap stocks and selling bail bonds. Eventually, I decided to retire and settled down in the serene environment of Citrus County.
It was in 2000, I embarked on a new musical chapter, playing alongside BJ Bear and performing in various duo and trio gigs. It was during this time that I collaborated with Lew Alpaugh to write and record the album "States of Mind," which showcased our creative synergy. Through the years to 2020 I continued my musical journey with BJ Bear, both performing as a duo and as a solo act. I also took the opportunity to write and record the album "Ridin the Storm," exploring new sounds and ideas. I ventured into fresh musical territories, writing and recording the album "Past Present Future." Additionally, I joined the "Moccasin Slough," an "Oldies" cover band, where I could contribute my talents and be part of an exciting musical collective.
As for the present and the future, there is much yet to be unveiled! I eagerly anticipate the next stages of my musical journey, embracing new experiences and creative endeavors that lie ahead.
Virtual Jukebox
Listen to the music of Lefty Dave Smith
Suicide Street (A Mini Album)
1st. Release
Covert Action
2nd. Release
States Of Mind
3rd. Release
Ridin' the Storm
4th. Release
Shop
PUrchase singles & complete Albums
Sign up
BE the first to know ABOUT nEw singles, album pre-release & event locations
Upcoming Events
MEET THE MAN IN PERSON